The purpose of the Australian Business and Innovation and Investment programme is to increase the entrepreneurial talent and diversify business expertise in Australia.
Hence this visa is targeted to interested applicants who have demonstrated history of success in innovation, investment and business in their existing resident jurisdiction, and are able to make a significant contribution to the national innovation system and to the Australian economy.
The main objective of this programme is to:
generate employment
increase the export of Australian goods and services
increase the production of goods and services in Australia
introduce new or improved technology
increase competition and commercial activity
develop links with international markets
increase the dispersal of business migrants across Australia through state and territory government sponsorship.
This Programme enables states and territories to attract and nominate the kinds of business people they are seeking to help in the economic development of their regions.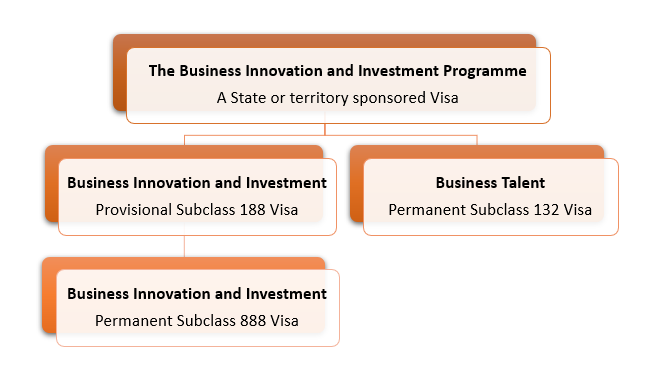 Key Features
Business innovation and Investment – Provisional Visa Subclass 188
A State or territory sponsored visa valid for 4 years
Different categories that you can opt for under this subclass
Business innovation and Investment – Permanent Visa Subclass 888
Permanent stage of the initial visa 188, allowing applicants to manage their business and investments in Australia for an indefinite period.
Like the visa 188, the 888 visa has five different streams depending on your businesses level of contribution to the Australian economy
Business innovation and Investment – Permanent Visa Subclass 132
A State or territory government sponsored permanent visa for high calibre business owners and entrepreneurs
PS: Applications for Western Australia state nomination for Subclass 132 has closed until further notice.
Source: https://migrationalliance.com.au/immigration-daily-news/entry/2019-01-the-australian-business-and-innovation-and-investment-programme.html?fbclid=IwAR0jn2Nhe7-_lO7h-w3loNm6NFBG8Z4HYFpzjB24bsX7ZROHhjwxyWkWWFY