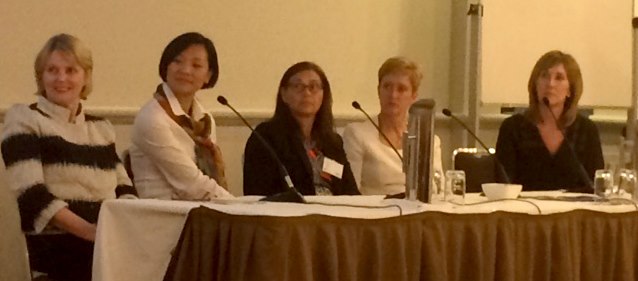 On 28 October 2015, Noelene Merrey was invited to share her knowledge and experience at the Women in Global Business Speaker Series 2015 seminar with its theme, "Unlocking India and China Opportunities".
Her presentation entitled, "Exporting for Growth: Steps to Success," emphasised the importance of building and cultivating relationships in China and gave an overview of her involvement in significant China projects, the unique selling points that differentiate the Perdaman Global Services products and her achievements in breaking into this new market.
Noelene said, "Business relationships are built on trust, respect, accountability and setting clear goals which are accepted by both parties. In my opinion, there is no difference doing business in China and the rest of the world, but it is critical to have a translator that understands your business."
"As I ventured into the Chinese market, I had the support of Austrade. It is important that our Chinese audience knows that the Australian Government recognises and supports what we do. This gives us credibility," Noelene said.
She stressed the importance of the Government's role in strengthening diplomatic ties with China and directing more effort towards the promotion of Western Australia's agricultural opportunities.
Present at the event were Hon Liza Harvey, MLA Minister for Police; Road Safety; Training and Workforce Development; Women's Interests with two (2) keynote speakers, Liu Bing, Senior Trade Commissioner (Acting) Shanghai and Dr Vanessa Guthrie, Managing Director, Toro Energy Limited; Case study speaker, Tanya Bartram, CSA Global's Director – Chief Financial Officer and Company Secretary who shared their extensive experience and successful strategies in India and China.
Women in Global Business (WIGB) is a national program that recognises women's growing contribution to Australia's economy through international trade and is funded by the Australian Trade Commission (Austrade) and delivered in partnership with Australia's state and territory governments.