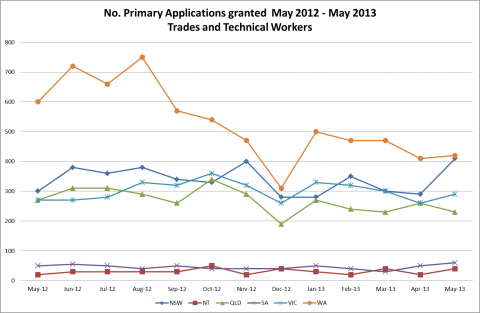 May Figures from DIAC for 457 Visa Grants for Technical and Trades Workers
The graph above tracks visa grants for Technicians and Trade Workers from May 2012 to May 2013. Some interesting trends are occurring:
Western Australia is starting to flatten out. The top trade occupations are Mechanical Engineering Technicians, Carpenters, Diesel Motor Mechanics, Metal Fabricators, Electricians, Welders, Fitters and Cooks.
NSW is almost reaching Western Australian numbers in terms of 457 approvals for this occupational group. Occupations for this State are associated with the roll out of the NBN.
Cooks were the number one ranked occupation for primary visa grants.
Victoria and Qld track quite closely in terms of the number nominations in these occupations.
NT is still operating from a low base with Carpenters, Metal Fabricators, Electricians, Mechanical Engineering Technicians, Diesel Motor Mechanics, Welders, Cooks and Chefs in the top 15 occupations.
For all other 457 visa grants for May 2013 the key points are:
There has been an overall increase of 6.4% in the numbers of 457 visa grants compared to the same period last year.
From April to May there has been an increase of 13% in the number of 457 visa granted.
The majority of 457 visa grants in May were for positions in NSW (35%) with over 75% of these grants were for Managers and Professionals.
WA has the second highest number of 457 visa grants (21.6%) with 41.2% of these grants for Technicians and Trade Workers.
Victoria has the third highest with 21.6% of the share of visa grants, with 54.3% for Professionals and 25.6% Technicians and Trades Workers. It is worth noting that 900 visas were granted to Cook's in Victoria or 6.8% of the total number of grants.